Takin' It to the Streets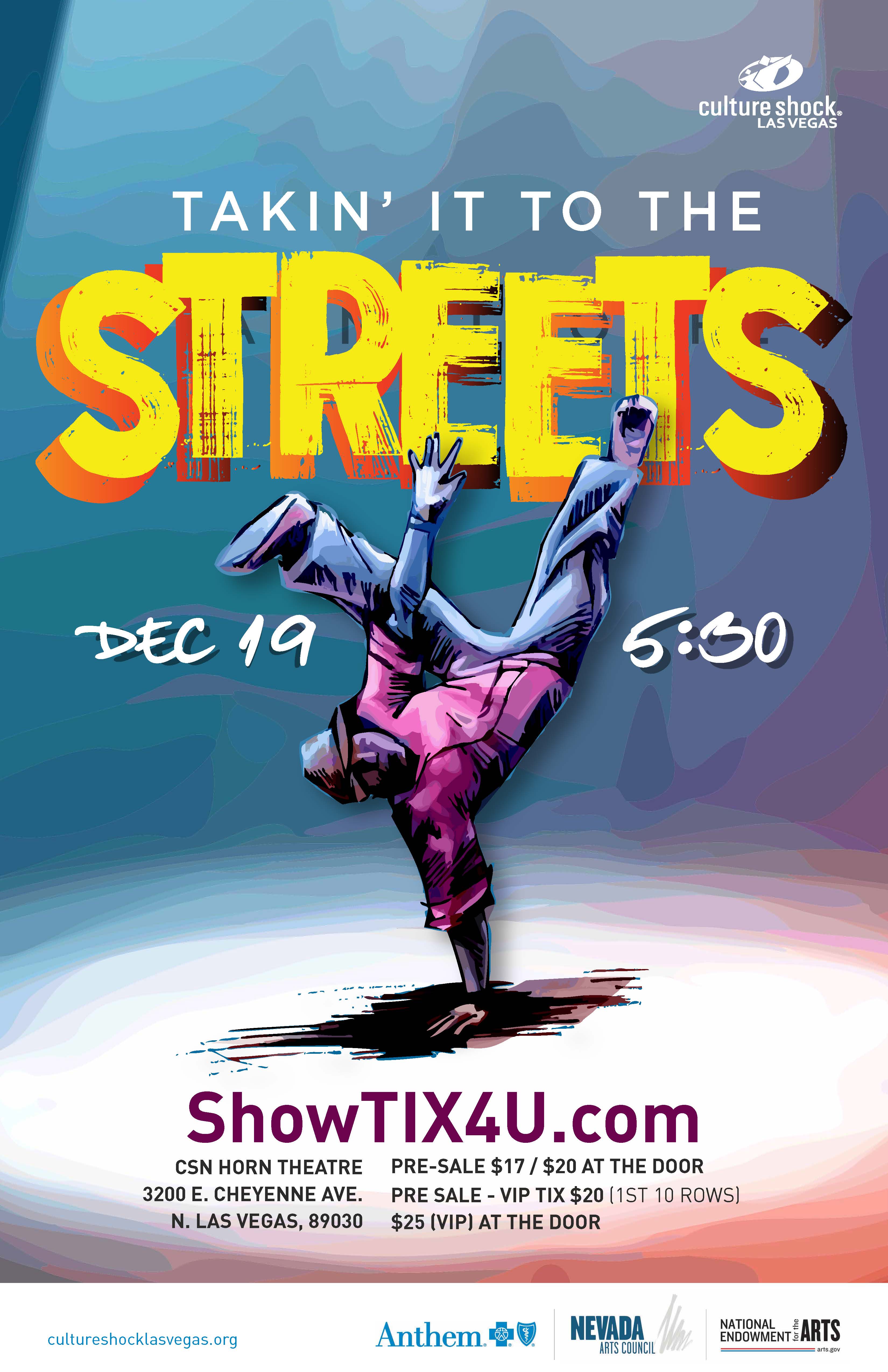 Dance Performance to be held on Sunday, December 19, 2021.
Culture Shock Las Vegas presents its annual Takin It to the Streets Showcase. The production benefits Culture Shock Las Vegas and its youth outreach programs: Future Shock, Mighty, and Mini Shock. The showcase will be held Sunday, December 19, 5:30 p.m. at the Nicholas J Horn Theater, CSN, 3200 E Cheyenne Ave, North Las Vegas, NV 89030.
Takin' It to the Streets has been mesmerizing audiences of all ages for over fifteen years. The VIP admission at the door is $25, the early sale VIP is $20, the pre-sale general admission is $17 and $20 on the day of the show. Tickets can be ordered by visiting www.showtix4u.com.
This year, the one-of-a-kind song and dance extravaganza will feature Las Vegas' Culture Shock, Future Shock, Mighty, and Mini Shock members performing a variety of dance medleys. The special performance will be enhanced by the participation of troupe members from Culture Shock San Diego. Plus local troupes, Zoologic Break Ninja, Playgroundlv and by many more.
According to Executive Director, Evangeline Bisquera-Golda, due to situation of the pandemic, workshops, dance training and scholarships were virtually done last year. Members of the troupe this year were able to perform at Victorious Foundation, Public Education Foundation, ADL's Walk Against Hate, and virtual events for Girl's Code, DEAEF's Youth Summit and many more.
Offering positive role models and a welcoming environment to the local dance community since 1995, Culture Shock Las Vegas provides the community with a vital tool to protect, strengthen, and teach their youth to respect all people. Culture Shock Las Vegas, a non-profit educational, youth-outreach program, and hip-hop dance company, is comprised of children and young adults who volunteer their time to use hip hop/street dance to help steer young people away from drugs, violence, hatred and other mischievous behaviors, into a lifestyle that promotes acceptance, achievement and self-confidence.