Culture Shock Las Vegas®
The purpose of Community Outreach is to improve awareness of dance as a healthy activity for youth, showcase the talent of current members of the Youth Dance Troupes, and attract new youth to the program.

Our signature outreach event is Back to School Jam. This event consists of days of dance instruction from choreographers, dancers, and members of Culture Shock's Professional Dance Company. The cost to participate in this one-of-a-kind event is free. Participants will receive school supplies and other giveaway items to boost excitement for the school year while supply lasts. Children may sign up for multiple classes over many days based on interest. Youth who participate in the event and express interest in joining a dance troupe are encouraged to attend a troupe audition for placement.
Culture Shock Las Vegas is comprised of voluntary children and young adults who use dance to help steer young people away from drugs, violence, and hatred, into a lifestyle that promotes acceptance, achievement, and self-confidence.

Location:  
6280 S Valley View Blvd. Suite 110 Building A Las Vegas, NV 89118
(702) 281-7588

Back to School Jam 2022,
Free. Children ages 5 – college years may sign up for multiple classes based on interest. Limited Space. 
Sign up
https://forms.gle/MXizki5VJjHkbv6Q7
Confirmation will be sent by email or text. 
Email to lasvegas@cultureshockdance.org
Space is limited.  Registration at the door may not be available if session time is already full.
Thank you for your support!!!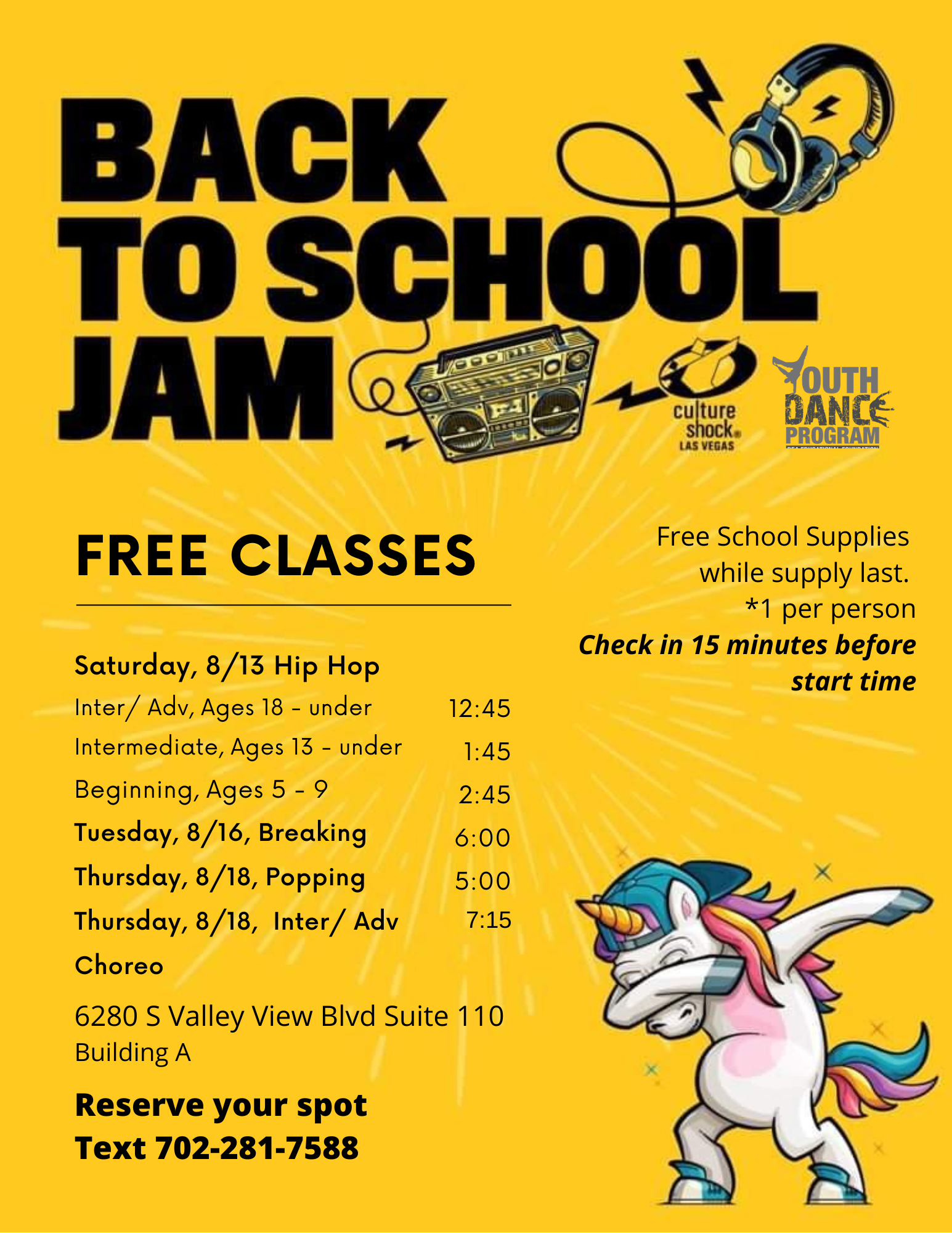 /** * @var $module \Ucraft\Module */ ?>
My son has never done anything like this before. I surprised him when we arrived and he was so nervous he cried. I told him new experiences are a good thing and to just have fun. He absolutely loved it!!! Thank you!!!

Great way to reach out to the community.

The Back to School Jam gave each child confidence, fun dance skills, new friends, and school supplies.

The program is fun and it's a good confidence booster for people with low self-esteem.

Such a positive experience for children from all backgrounds and dance levels.

I especially loved the inclusive atmosphere.

Teaches how to give back.

This brings people together and shows that any and everyone is welcomed.

Great for kids and such a treat to work with amazing instructors.

It is fun and you get free things.

It's fun and generously donates school supplies for those who need it.